Customer
Satisfaction Survey
To evaluate the impact of the UNIDO-ACMA programme on its participants, a satisfaction survey questionnaire was circulated to all completed clusters. The focus lay on the overall effectiveness of the programme, the sustainability, the tools learnt as well as theimprovements relating to the overall process. Additional focus lay on business results and/or organizational culture, suggestions for a potential future engagement with ACMA/UNIDO, and new counselling services to be offered…
It was found that low employee motivation, followed by low quality standards, and high operating costs are the major issues that firms were struggling with. Low employee motivation is a major issue that has repercussions in other areas of business operations. Therefore, it is vital to address these issues. Most of the companies recorded improvements after taking part in the UNIDO-ACMA programme.
The results of the responses received from completed clusters revealed that program was excellent in terms of overall effectiveness and overall content. A survey of 18 companies provided a rating of 4.6 (out of 5) in terms of overall effectiveness of the programme and provided a rating of 4.7 for the content.
Companies responded that the program helped them gain a better understanding of the customer requirements in the changing and difficult times. The content of the program was deemed especially useful in issues pertaining to quality management, 5S, total employee involvement, and productivity improvement.
Companies were satisfied with the usefulness of the content for improving total employee involvement as about 95% of the companies provided a rating of 4 or 5 in this aspect. Similarly, for quality management, 83% of the companies provided a rating of 4 or 5 and for productivity improvement about 78% of the companies provided a rating of 4 or 5.
Overall, most of the companies found it useful and assessed tangible benefits such as lower operating costs, energy savings, less defects rates,as well as intangible benefits such as higher employee motivation, and customer satisfaction.
CUSTOMER
FEEDBACK
During the fifth monthly review meeting, each member of a cluster program gave feedback and noted take away points from the plant observations. General 5S was excellent, collet storage, material identification, NC daily checkpoint, operator performance system, visual table, responsibility photographs on each board, good shadow board were appreciated by the team.
Rohan Industries have achieved 9.51-minute setup time from 60 minutes earlier, inventory reduction by 50% and in-process rejection reduced from 15000ppm to 2500ppm. Companies like Mudra engineers, Vishvakarma Industries, Perfect polymers, Jay Industries have done good improvements in 5S, In-process rejection and employee motivation. The plant visibility improved in all the companies.
Chairman Delux Bearings
(Mr. Kirti Rathod) Feedback:
It took lot of efforts to start the cluster with these companies now I am happy to see the improvements done by each company
INDIA TECH
INDUSTRY
Trained up of 5S concepts are very useful and effective
Waste elimination procedure are very useful to our industry
Our industrial working culture has improved
Housekeeping performance are more effective
New customers are added up
INDIRA METAL
COMPONENTS
Employee engagement has improved
Planning has been improved by DWM throughout the company
5S has improved
Data's was helpful to improve company performance (Material Procurement, Safety, Dispatch)
Immediate response on Red tag.
PKM
AUTOCOM
The training which our peoples are getting through ACMA is very useful in various ways to improve our productivity.
It gives ownership to the technicians. That's indirectly reducing Breakdown, Accidents and Increasing cleanness, Punctuality and responsibility
Observed Cultural changes from the Employees
Attrition level has been improved
PM
Industries
Employees skills are exposed in the way of suggestion.
They (ACMA UNIDO team) describes the level where the organization is and how to reach the next level.
5'S' concepts are reached to all level of employees.
Fund lock are explained, why & how to handle the money handling by using the tool VAPCO & ITR
Employees culture has improved.
Unwanted material movement are reduced by changing the plant layout
Managing Director,
Mahalaxmi Metals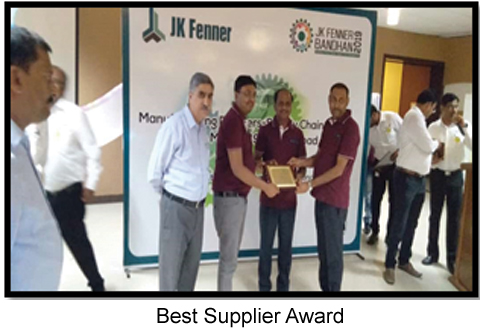 The ACMA – UNIDO Cluster Level one program completed was successfully by Mr. Murughendra. The programme has helped us implementing various changes in our organization like 5S activities, Safety, Suggestions, Kaizens, Display boards, OEE. By implementing various kaizens and improvement in OEE % has also benefited in reducing commercial cost. This program has helped in upgrading skills of Supervisors and Managers at all levels. We will try our best to maintain these changes in our organization. I feel very happy that ACMA UNIDO Cluster Level one program has completed this month. We are very thankful to J.K Fenner India Ltd for introducing to ACMA UNIDO. I wish all learned 7 QC tools for Quality Analysis & ITR.
Other Appreciation
by Customer
Mr Tom Flack, Chief Purchasing Officer, Tata motors during his visit in November to Pantnagar appreciated Cluster companies for their good work done in 90 days.
Based on two months performance, demonstrated during 1st MRM, TML appreciated the companies as well as individuals for their good work, Plant Head Tata Motors encouraged them to make the cluster objective successful. Published in internal circulation of Tata Motors, on 4th October 2019.